It's Valentine's Day week so we are getting all lovey-dovey this week. We've picked just a few ideas for romantic things to do in the Peak District, to set hearts swooning.
Lover's Leap in Dovedale and the stepping stones.
There are several Lover's Leaps around the county, and indeed, the country. Probably the most famous in Derbyshire is Lover's Leap in Dovedale where, the story goes, a young woman threw herself from the promontory believing that her lover had been killed in the Napoleonic Wars. Her skirts caught a branch and saved her. All ended well when it was discovered that her lover had not been killed after all. For all that, it's not a particularly romantic spot so we'd recommend heading toward the stepping stones that cross the river Dove just a short distance away. You may need to get there reasonably early if you are also keen to avoid a crowd (which, let's face it, is not very romantic either).
Be your own Mr Darcy and Elizabeth Bennet
Lyme Park has been used as Pemberley in a film version of Jane Austen's Pride and Prejudice and makes wonderfully romantic backdrops. We wouldn't recommend going into the lake, however, you may upset the gardener! (Note: Lyme Park will be reopening on the 16th February 2019)
The film version of Pride & Prejudice that Keira Knightly and Matthew Macfadyen starred in also had a memorable scene set on the top of Stanage Edge, which is also a fabulous spot! Not a great place to be if the wind is howling though!
Love Locked in Bakewell
Bakewell has its very own 'love lock' bridge, across the River Wye, close to the town centre. Come prepared or visit the local locksmith on the high street to leave a special memory
Picnic by the river
Talking of rivers, we are not very blessed with rivers in the Peak District and Derbyshire. With so much limestone, most of the water disappears invisibly into the ground but there are some options! The River Wye through Bakewell is very pretty and there are several spots that you could stop for a lovely picnic within a short walk of the town centre. There are several delicatessens and bakeries in Bakewell that would sell you the makings of a delicious picnic.  Don't forget the Bakewell Pudding!
Afternoon tea
On a beautiful day what could be more indulgent than having afternoon tea on the terrace of a lovely country house hotel overlooking their beautiful gardens. Scrummy! Try East Lodge in Rowsley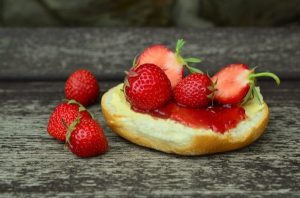 Dark Skies
Our favourite and probably coolest option (no pun intended) would be to grab a blanket or two, a flask with a hot drink inside, go out after dark, look up and count the stars! We're blessed here in Flagg with really dark night skies but there are other official 'dark skies' spots around the county.  Parsley Hay, Minninglow and Surprise View, near Hathersage are options.  Give us some notice and we can lay on the blankets and flask for you.