The Peak District has a wonderful collection of places and attractions for the whole family to visit: stately homes, theme parks, castles, museums and parks.
For details on opening times, directions, so on and so forth, please visit the destination website or contact us. We'd be happy to help.
Chatsworth
Chatsworth is the most famous of our stately homes. There is always something new and fresh to look at every time you visit. Chatsworth is the seat of the Dukes of Devonshire. As well as the House, there are extensive gardens, a playground and farmyard for the children. In addition, there are walks around the wider estate, cafes and shops and also an award-winning farm shop. Over the past 10 years, skilled craftsmen have made essential repairs to the building, including renewal of all the exterior gold leaf. It's a great time to visit, especially on a sunny day (when the gold leaf looks amazing)!
Five quirky facts about Chatsworth
Chatsworth website (opens in a new window)
Haddon Hall
We love recommending a visit to Haddon Hall as a contrast to Chatsworth. A quirk of fate in its history left Haddon Hall large unmodernised for centuries. As a result, it is an amazing example of an Elizabethan manor house. Because it's such a well preserved historical building you may recognise it from numerous films and tv programs.
Read a bit more about Haddon Hall
Haddon Hall website (opens in a new window)
Lyme Park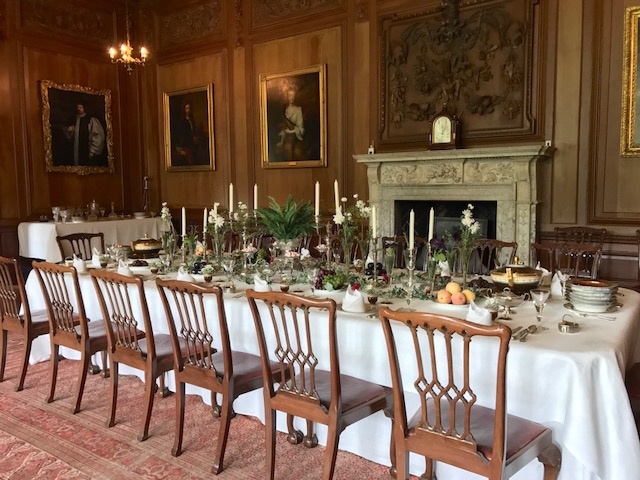 The largest house in Cheshire, Lyme Park is a mix of Elizabethan, Palladian and Baroque influences. It was in the Legh family for more than 500 years until passed into the hands of the National Trust. The house has featured in several films. You may remember it as the exterior of Pemberley in the BBCs adaptation of 'Pride and Prejudice'. On a visit, there'll be an opportunity to visit the house and gardens, explore the 1400 acre deer park and play in the children's play area.
Read about the Regency years at Lyme
Lyme Park page on National Trust website (opens in a new window)
Hardwick Hall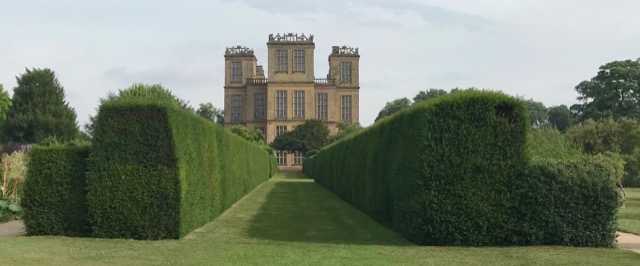 Hardwick Hall was built in the 1590s for Bess of Hardwick who, in her day, was the richest woman in England after Queen Elizabeth I.
The house became part of the Devonshire Estate when Bess married William Cavendish.
The Cavendish family passed Hardwick Hall to the nation in the 1950s in lieu of the death duties that arose on the sudden demise of the 10th Duke of Devonshire. Under the care of the National Trust, the Hall is a great example of an Elizabethan country house
Hardwick Hall page on the National Trust website (opens in a new window)
Bolsover Castle
Bolsover Castle was built more as a party venue than a defensive castle. You'll be able to get a feel for 17th century entertaining. You'll see the garden with sunken fountain, a wall walk and a covered riding school. The castle has a reputation for being haunted with mysterious footsteps, a boy holding visitors hand, unexplained lights and muffled voices being a few of the reported happenings.
Bolsover Castle page on the English Heritage website (opens in a new window)
Heights of Abraham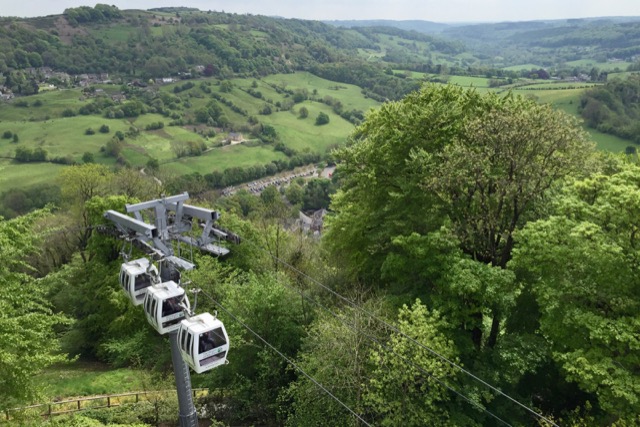 The Heights of Abraham are show caverns and a country park located on the hillside above Matlock. The attraction can be reached on foot or, more excitingly, by cable car. A great place to learn about the social history of the area. There are two playgrounds for the younger members of your group. Watch this short video to get a better understanding of what it's all about!
Heights of Abraham website (opens in a new window)
Crich Tramway Village
Ride these wonderful old trams (all day if you'd like) along the mile-long track at Crich Tramway Village. Various stops take you to different parts of the site; to visit an outdoor play area, woodland walk, mining display and picnic area. Beside all of that you can also visit a soft play area, the Red Lion pub, or Rita's tearooms. Additionally, there's an old-fashioned sweet shop, the workshop viewing gallery and a 'Century of Trams' exhibition.
There are themed and special events throughout the year
Crich Tramway Village website (opens in a new window)
Sir Richard Arkwright's Cromford Mills
Cromford Mills forms part of the UNESCO World Heritage Site of Derwent Valley Mills. It's one of Richard Arkwright's more northerly mills and has been developed as a gateway to the wider World Heritage site.
Built in the later 18th century and incorporating Richard Arkwright's innovations, it became the world's first successful water-powered cotton spinning mill and consequently the birthplace of the modern factory system.
Take a guided tour of the site and even meet Sir Richard himself in the 'Arkwright Experience'. See the canal that would have transported goods in and out of the site, explore trails, shops and places to eat.
Cromford Mills website (opens in a new window)
Alton Towers
One for the adrenaline seekers, Alton Towers is only 40 minutes drive away or so.