Visiting Eyam Hall at Christmas is a truly lovely experience.  A Jacobean style manor built and lived in by the Wright family for nine generations.  After the owners decision to retire some years ago the National Trust have leased and run this fascinating property.
Eyam is famous for its role in the late 17th-century plague where the villagers quarantined themselves in order to stop the deadly disease spreading. The Hall was built just a few years later so you'll find no mention of the plague at the Hall. The Hall has been adapted, modernised and renovated over the years to accommodate the families needs. The underlying spirit of the Hall remains undiminished however, and it requires little imagination to transport yourself back across the years.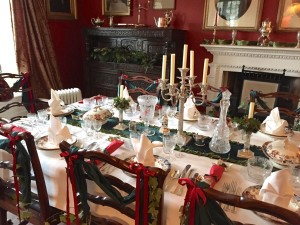 Some of the Hall's residents and visitors could not resist leaving their marks by way of etching poetry on the window panes. I'm not sure what we should make of such "graffiti" today!
On a guided tour you will hear the stories of the etchings, how the Hall almost left the family and how, by chance, it came back to the correct lineage. You will see a fabulous collection of furniture, family portraits and artefacts, all of which seem to have a story attached.
The Hall is open from 2nd December until the 20th December and is beautifully decorated with Christmas decorations from different eras. The Hall will then be closed for winter maintenance and re-opened in mid-February 2016
Visit the Eyam Hall website here