Literally meaning "rocks" The Roaches act as an impressive sentry on the south western corner of the Peak District National Park
North of leek and south of Buxton, the Roaches are regarded as an "Area of Outstanding Natural Beauty". On top of the rocky outcrop you can see (weather permitting!) the plains of Cheshire to the west and the forbidding moors and dry stone walls of this corner of the Peak District to the east.
The Roaches are a coarse sandstone called gritstone. The land was once the gritty bottom of a huge delta that covered a lot of what is now England. Around 300 million years ago the delta bed was pushed up into a vast dome. Over subsequent millennia, the central area of gritstone was eroded away leaving escarpments of rock in the west (The Roaches) and in the East (Stanage, Baslow and Froggatt Edges)
The rocky outcrops have wonderfully evocative names such as; The Winking Man, Dains Mill, Apprentice Hut, Queen's Chair, The Bawdstone, Hen Cloud
One of the most popular activities on The Roaches is rock climbing. There is something for everyone with climbs from moderate to extremely severe (for those in the know about these things). Pegs have not been left permanently in the rock faces so the faces are "clean" for the next climber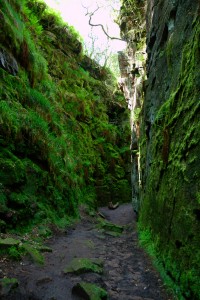 Lud Church is a 15m deep, 100m long chasm which you can walk through. Said to be the inspiration for the Green Chapel in 14th century tale of Sir Gawain and the Green Knight it was formed by a landslip. Having its own microclimate, it is a great environment for ferns and mosses to thrive, and for walkers seeking some shelter from the wind!
In the summer, you should look out for peregrine and red grouse in the air. On the ground look out for wallabies (yes, I'm serious!) last seen in late 2014. Originally they were released from Whipsnade Zoo in the late 1930s. The genetic pool of the released animals was limited and very close so it was believed that they had died out. It would be fabulous to think that this wasn't the case and that they are still there.
The Roaches Appreciation Society web site is a great resource for finding out more about the area.
Follow this link for a challenging walk in the area.
There are two designated car parks in The Roaches area;
at Gradbach (grid reference: SJ996661); and
near Upper Hulme (grid reference: SJ005621)
There are maps in Hayloft, Byre and Jasmine Cottages that cover the area.
From Hayloft and The Byre the Gradbach car park is approximately 13 miles (30 minutes drive)
From Jasmine Cottage, 20 miles (40 minutes)
From Cliffe Cottage, 17 miles (40 minutes)