2017 will be the year of the inaugural RHS Chatsworth flower show and there is a lot of local excitement about this new and prestigious event.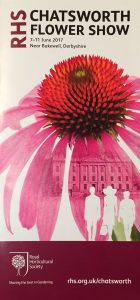 Joseph Paxton was appointed head gardener at Chatsworth in 1826 by the 6th Duke of Devonshire. He proved to be the most innovative garden designer of that era and his influence on Chatsworth remains visible today.
Championing innovation is one of the themes that the RHS will be bringing to their new show to be hosted by Chatsworth from 2017.
Design revolutionaries and the unconventional will also be featured alongside traditional gardens at Chatsworth next June. The show ground will built either side of, and encompass, the river. There will be an interpretation of the Great Conservatory.
There will be design-led shopping opportunities, artisan food and many local businesses represented.
Not forgetting the younger visitors, there will be an outdoor classroom and the opportunity to have a go at well-dressing, a uniquely Derbyshire custom.
For a taster of what's to come at this exciting new annual event for The Peak District;
Tickets are available now at rhs.org.uk/chatsworth
"Be part of something amazing"
Chatsworth is 10 miles away from Hayloft and Byre Cottages, 9 miles from Jasmine Cottage in Winster and 15 miles from Cliffe Cottage in Castleton