Why not leave your car in our spacious car park and walk from here. We have devised three circular walks of varying distances to suit most abilities. Maps are available in the cottages. Should it rain, there are hanging facilities for wet clothes in the cottages.
Easy – Taddington – Chelmorton – Flagg Village – 4 miles, allow 3 hours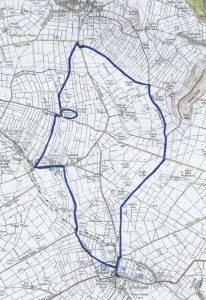 Set out north from Peak District Cottages towards Taddington. Turn westwards for approximately 3/4 km before turning north again towards Moor Lane. Walk along Slipperloe Lane towards Taddington. After 1/2 km turn left on to an uphill footpath. Follow this footpath along the crest of the hill into Chelmorton. Weather permitting there will be stunning views all along this path. You can then stop for a pint in the Church Inn, visit the Church itself, with its interesting weather vane or turn southeast back towards Flagg. Return across the fields from the village centre to Rockfield House.
Moderate – Flagg village – Monyash – Overwheal – 3 miles – allow 2 hours
From the cottages go down the drive and head south on the footpath to Flagg village centre. At the village, turn left along the road for approximately 1/2 km before turning right past the camping barn and south towards Monyash. In Monyash there is a choice between the pub, The Bulls Head and the village cafe next door for a refreshment stop. Heading back out of the village, take the footpath due north. The footpath turns northeast before crossing the road and heading down Wheal Lane. Follow the footpath past Over Wheal, then turn left along an unmade-up road. Cross The Jarnett and take the footpath down towards Rockfield House.
Hard – Deepdale – Monsal Head – Litton – Taddington – 10 miles – allow 5 hours
From the cottages go down the drive and head east on the road to the crossroads. At the cross roads bear left on the fotpath that takes you down Deepdale, a fantastic place for wild flowers during spring time. At the bottom of Deepdale you will need to carefully cross the A6 before following the River Wye through Monsal Dale right around to Millers Dale and Litton Mill. You will be able to see the old viaduct across the valley as well as some fantastic river flora and fauna. At Litton Mill turn southwest and head up the daleside towards Taddington. From above Taddington there are tremendous views northwards before heading back towards the peak district cottages.
Other walks that pass our door are
1. Chelmorton and Taddington
2. Deep Dale, Taddington, Sough Top and Monyash