Despite the continual stream of storms that seem to be lashing our shores at the moment we are looking forward to the summer. The Peak District National Park have, for the first time, organised a fund raiser to support the maintenance of the traffic free trails that criss-cross the National Park.
The trails
There are 34 miles on 4 distinct trails in the National Park; Monsal Trail; Tissington Trail; High Peak Trail; and Thornhill Trail.
The four separate trails were all former railway lines so all provide excellent recreational and accessible routes through the countryside for walkers, cyclists and horse riders. There are some breathtaking views from parts of the trails, tunnels that bypass the hills and numerous information points that show the history, geology and natural history of the trails.
Each metre of trail costs £5 to maintain. Maintaining the structures, bridges and tunnels along the trail is an additional cost, another £2.5m over the next six years! With decreasing central government funding the National Park Authority have organised a fabulous weekend fund raiser.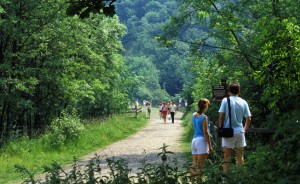 On weekend of the 19-21 August there will be lots of fun family friendly activities taking place in Bakewell. On Saturday 20 August there will a choice of three great evening walks which you can register to take part in. The registration fee and any sponsorship that you raise will be used in the maintenance of these much-loved trails