Weeks 3 – 6
If you missed it, you can read part 1 here
So how is everyone doing? We are amongst the very lucky ones, we are all healthy still and we have plenty of space. Like lots of people, we're staying in contact with family and friends using Zoom (that app we hadn't even heard of a few weeks ago!) and it's getting harder to remember how life used to be.
The seasons have shifted on one and spring has most definitely now arrived.
The fields have turned a deeper shade of green as the grass has had a kickstart in its growth following the warm weather over Easter. With not too much rain either, the ground is much firmer than normal for this time of year. With less risk of turning the ground into a quagmire, the dairy herds are back in the fields, during the days at least.
The lambing season has finished and the young ones have now all been turned out into the fields for the summer. Lambs born at the turn of the year are now almost as large as their parents.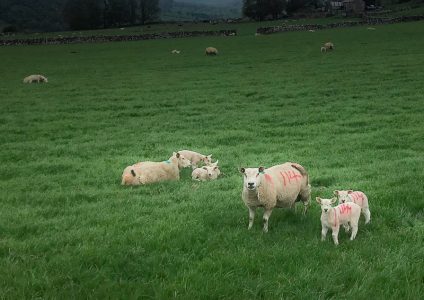 Marian has been busy revamping the Peak District holiday cottage website. There are still some tweaks and issues to iron out but it's gone live. It's much faster to load than the old site so we're hoping that it will help give us a boost up the search engine rankings. The plan is now to replicate the format with the Cliffe Cottage site.
Russell is 'back' at college. His motorsports diploma is a very practical course so its been hard for the tutors to adapt. We're not sure when he'll get back to college for real but hopefully, he'll be able to catch up with the practical sessions when he's back. He's not been able to drive his car too far so he's been enjoying photographing it instead. He's posted the best results on Instagram (@becky_mk4 – yes, the car does have its own Instagram account!)
Martin is carrying on his 'other' job from home which has freed up some travel time. Some of those little jobs that we never seem to get around to are finally being done! I'm sure that we're not the only ones there!
Thoughts are turning to how we now all get out of this, without reaching a point where the virus is back on the rampage.
The consensus seems to be that the hospitality industry will be the last to get back to business but we don't yet know when that will be. We're trying to be as prepared as possible for whenever we get the opportunity to welcome guests again.
#staysafe